Mountain Rock Lodge
Naro Moru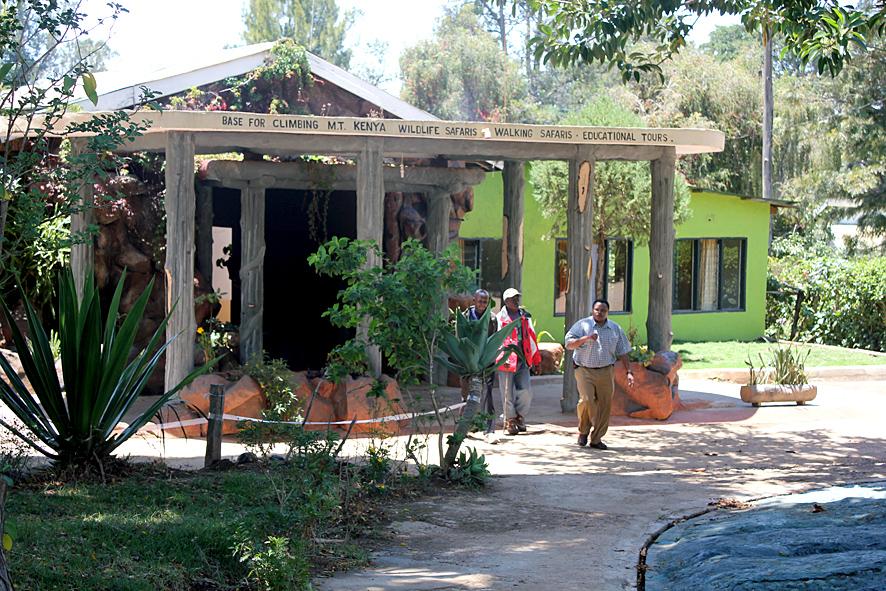 About Mountain Rock Lodge
Mountain Rock Lodge a delightful country-style holiday resort tucked away in the woods on the lower slopes of Mount Kenya.

The lodge offers a choice of 28 rooms comprising Standard Rooms, Standard Triple Rooms and Superior Standard Rooms. The Standard Rooms are furnished with double or single beds and the Standard Triple Rooms with king-size beds and single beds. The Superior Standard Rooms are furnished with king-size beds and single beds, and they are is equipped with TVs and fireplaces. All the rooms are equipped with mosquito nets and telephones, and share the use of bathrooms with showers.

Buffet-style meals are served in the dining room and guests can relax in the lovely garden and enjoy the views of the lake. Guests can view and participate in traditional dances and those just wanting to relax can play a round of pool. Apart from being a reception for trekkers and climbers headed to Mount Kenya, Mountain Rock Lodge also offers a variety of activities such as fishing, motor boating, hiking to the Mau Mau caves and waterfalls, nature walks, birdwatching and horse riding.
Conference Venues: We have a nice conference facility available.
Response Rate: 100%
Enquiry Response Time: 24 hours
Type: Lodge
Sleeps: 91
Check-in: 1:00 PM

Check-out: 10:00 AM
Facilities
Laundry Facilities*
Indoor Fireplace
Satellite TV*
Hiking
Room Service
Conference Venues
* Please enquire for further details.
Important Information
These terms are applicable to all contracts of any kind made by Mountain Rock Lodge and its clients, and apply to all reservations, bookings and agreements for accommodation, dining, function room hire and use of all services at the lodge. Clients are invited to read these provisions and note their responsibilities, arrangements for payments,... These terms are applicable to all contracts of any kind made by Mountain Rock Lodge and its clients, and apply to all reservations, bookings and agreements for accommodation, dining, function room hire and use of all services at the lodge. Clients are invited to read these provisions and note their responsibilities, arrangements for payments, cancellation terms and limitations on the liability of the lodge. The contract is conditional on the payment of the deposit.

If the lodge confirms the reservation, this contract is conditional on the client supplying credit card details and the authority for charges to be deducted, including cancellation charges, on the payment terms outlined in the schedule. If credit card details and payment authority is not given to the lodge by the client, then subject to any outstanding obligation due to the lodge from the client, the contract will cease to be of effect. The services that are the subject of the provisional reservation will be released and be resold without any further notification to the client.

The lodge shall provide the services to the client subject to the contract. The client shall, at its own expense, supply the lodge with all necessary data or other information relating to the services within sufficient time to enable the lodge to provide the services in accordance with the contract. The client shall ensure the accuracy of all such information. Specific information requirements are contained in the schedule. The lodge may at any time without notifying the client, make any changes to the services which are necessary to comply with any applicable safety or other statutory requirements, or which do not materially affect the nature or quality of the services. The lodge does not condone any form of bullying or harassment in the workplace.

The charges payable by the client shall be detailed in writing by the lodge. If no charges are specified or additional and varied services are provided to the client, the client shall pay the standard charges at the prevailing rate on the day the services are provided and any additional sums which are agreed between the lodge and the client for the provision of the services. The lodge may vary the standard charges from time to time. All charges quoted to the client for the provision of food and beverage services are inclusive of any VAT at the applicable rate at the tax point unless otherwise stated.

The payments to the lodge to be made by the client, including deposit, are to be made on the date(s) and in the amounts to be calculated as specified in the schedule. If any services under the contract are varied prior to arrival then the payment made will reflect the latest details contained in the written details of the lodge. Any additional charges due to the lodge from the client for the services shall be paid by the client on presentation of an invoice. For room reservations made using the advanced purchase rate, full payment will be taken at the time of booking. This payment is not refundable in the event of any amendment or cancellation. Cash payment is accepted for walk-in guests. All charges to be settled prior the client leaving the hotel. The client is deemed to have authorised the settling of all outstanding charges which can be processed by the hotel using any credit or debit card details held on file.

The client agrees to pay charges to the lodge in the event of cancellation of the services or if the client and/or their guests fail to take up the services at the time and on the day specified in the contract. The lodge will provide a cancellation number to a client in the event of the client making a cancellation and that number must be used in any future dealings with the lodge. Any variation of numbers, accommodation and food and beverage requirements specified for the services or other changes or additions must be agreed by the client and the lodge in writing.

When the lodge supplies the services which include any services supplied by a third party, the lodge does not give any warranty, guarantee or other term as to their quality, fitness for purpose or otherwise, but shall, where possible, assign to the client the benefit of any warranty, guarantee or indemnity given by the person supplying the services to the lodge.
The lodge shall have no liability to the client for any loss, damage, costs, expenses or other claims for compensation arising from any instructions supplied by the client which are incomplete, incorrect, inaccurate, illegible, out of sequence or in the wrong form, or arising from their late arrival or non-arrival, or any other fault of the client. Except in respect of death or personal injury caused by the lodge's negligence, or as expressly provided in these terms, the lodge shall not be liable to the client by reason of any representation, unless fraudulent, or any implied warranty, condition or other term, or any duty at common law, or under the express terms of the contract, for any loss of profit or any indirect, special or consequential loss, damage, costs, expenses or other claims, whether caused by the negligence of the lodge, its servants or agents or otherwise, which arise out of or in connection with the provision of the services; including any delay in providing or failure to provide the services; or their use by the client, and the entire liability of the lodge under or in connection with the contract shall not exceed the amount of the lodge's charges for the provision of the services, except as expressly provided in these terms.

The lodge may,(without limiting any other remedy, at any time terminate the contract by giving written notice to the client if the client commits any breach of these terms, or if the client goes into liquidation, becomes bankrupt, makes a voluntary arrangement with its creditors or has a receiver or administrator appointed.

Guests are required to comply with the dress code of the lodge and have orderly conduct so as not to annoy guests attending any function or staying in the lodge or otherwise making use of the services. The client must ensure that no noise or nuisance is caused either for the lodge or its other guests and clients. The client must comply with any reasonable request of the lodge and with any policies of the lodge as may apply to the services from time to time. Should a resident of the hotel wish for any item to be received or helped by the lodge prior to arrival or following departure, advance notice will be required. The hotel retains the right to deny receipt of such items. Any costs incurred for return will be borne by the sender. All items are left at the owners risk and may be subject to search. Please note that should an item be locked or sealed it is the responsibility of the owner of the item to facilitate access. The lodge is not liable for any flood, fire or damage to the items. Smoking is prohibited in all public areas except the nominated areas. All visitors to guest accommodation must register on arrival and provide photographic identification.

Photography, which may only be for personal use and not to be published in any format, is permitted only in the designated area of the front hall under the supervision of an hotel employee. Photography or filming are not permitted in any other public areas of the hotel. Commercial photography or images including trade marks or trade names requires the prior written consent of the lodge.

The contract constitutes the entire agreement between the parties, supersedes any previous agreement or understanding and may not be varied except in writing between the parties. All other terms, express or implied by statute or otherwise, are excluded to the fullest extent permitted by law. No failure or delay by either party in exercising any of its rights under the contract shall be deemed to be a waiver of that right, and no waiver by either party of any breach of the contract by the other shall be considered as a waiver of any subsequent breach of the same or any other provision. Kenyan law shall apply to the contract, and the parties agree to submit to the non-exclusive jurisdiction of the Kenyan courts. see more
Click to display the map
Mountain Rock Lodge is 6.6km from the centre of Naro Moru , the nearest airport 136km (Nairobi Jomo Kenyatta International Airport).
*Distances are shown as the crow flies and not necessarily the actual travelling