Surf Kite Sleep
West Beach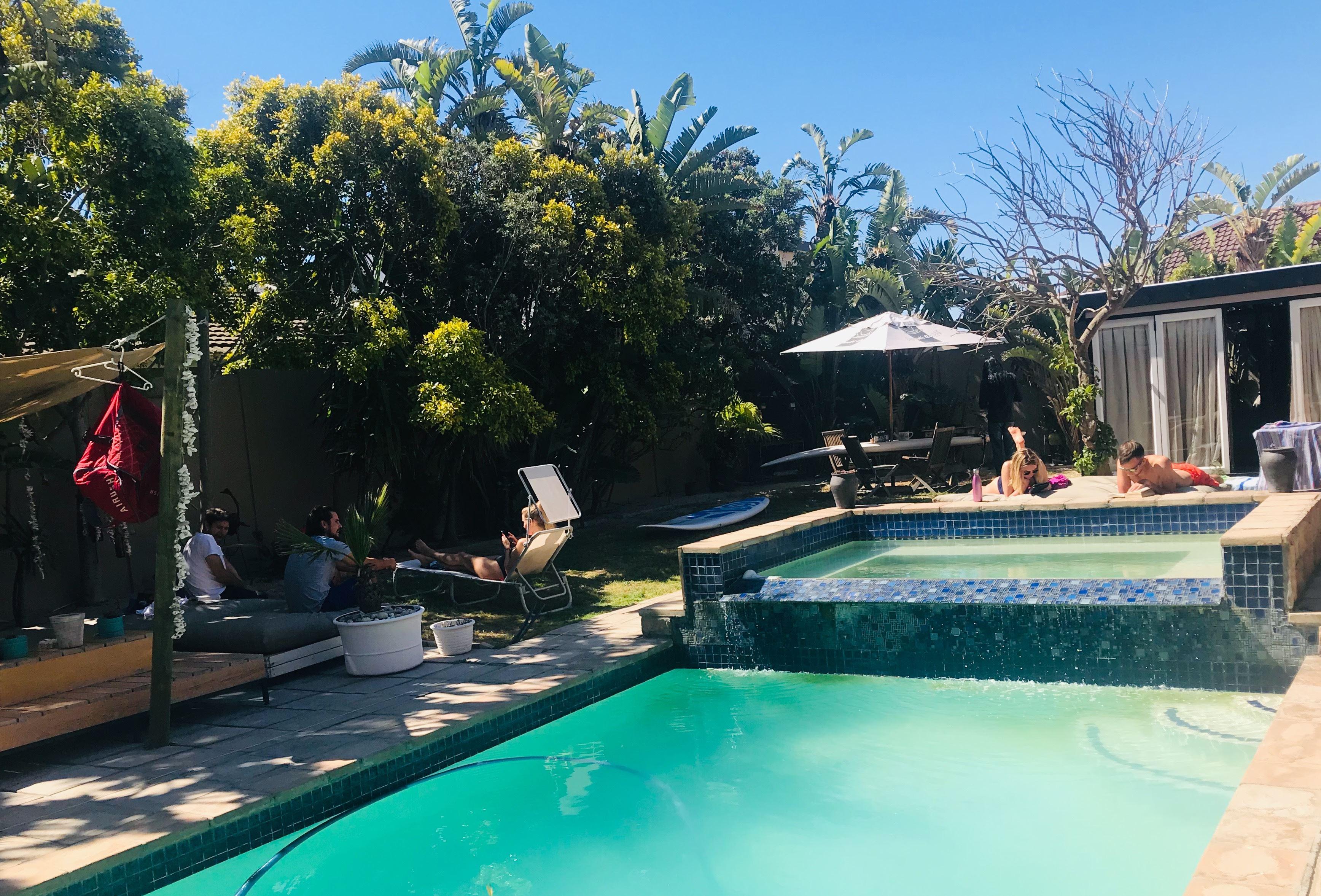 About Surf Kite Sleep
Surf Kite Sleep provides accommodation in Bloubergstrand. Situated in West Beach, the accommodation is ideal for guests who love kite surfing, adventure sports, surfing, rowing and sailing.

There are three accommodation types to choose from: Shared Rooms, Business Rooms with Shared Bathrooms and Luxury Rooms with En-suite Bathrooms.

Guests have access to several fully-equipped communal areas. There is a lounge area, communal kitchen, pool table and outdoor patio with braai facilities. There is also a swimming pool in the tropical garden.

Blouberg and Big Bay have become one of the most popular surfing destinations and are perfect for kiteboard riders of all skill levels. With incredible wind conditions and long, expansive beaches, this is the place to be if you want to air a kite over the holidays.
Response Rate: 100%
Enquiry Response Time: an hour
Type: Backpacker
Sleeps: 18
Check-in: 2:00 PM

Check-out: 10:00 AM
Facilities
Airport Shuttle
Braai/Barbecue
Swimming Pool
Beach
Hiking
Wi-Fi
Credit Card Facilities
Parking on Premises
Romantic
Cosy
Activities desk
Double bed
Double/Twin rooms
Fridge
Iron and board
Kitchen
Lounge
Maid service
Non smoking rooms
Patio
Pets Not Allowed
Safe
Shower
Single rooms
Surf
Total number of rooms 1 - 50
Important Information
Zero Tolerance Policy!

1. NO ILLEGAL DRUGS
2. NO ALCOHOL ABUSE KEEP IT COOL!!!
3. NO THEFT - CCTV on premises, all movement is recorded in communal areas
4. NO VIOLENCE OR AGGRESSION OF ANY KIND
5. NO INDOOR SMOKING - Allowed only outside communal areas.
6. RESPECT ALL FELLOW GUESTS AT ALL TIMES

NB: Please... Zero Tolerance Policy!

1. NO ILLEGAL DRUGS
2. NO ALCOHOL ABUSE KEEP IT COOL!!!
3. NO THEFT - CCTV on premises, all movement is recorded in communal areas
4. NO VIOLENCE OR AGGRESSION OF ANY KIND
5. NO INDOOR SMOKING - Allowed only outside communal areas.
6. RESPECT ALL FELLOW GUESTS AT ALL TIMES

NB: Please inquire about the above if not clear.


NO INDOOR SMOKING POLICY:
All rooms as well as communal areas inside the house have a non smoking policy. We have provided outside smoking areas .If caught smoking in the house or/and in any of the rooms a fine will be payable of R500.00 Please respect this policy as not all guests smoke and would not want to check into a room that smells of smoke.

CHILD POLICY:
No Children under the Age of 10 allowed!

We regrettably do not allow children under the age of 10 years of age. This policy is in place because of staircases, balconies, glass tables, open pool area and lastly for avoiding unwanted noise which could bother other guests who book in at Surf Kite Sleep knowingly that there is no Children under the age of 10. Parents please inquire with us if you want to book in with your child, as all children are charged same rate as adults and do not stay for free. Some rooms do have an extra single bed in which bunk bed rates are charged for. If a room is booked for two then it is charged accordingly for two.

Surf Kite Sleep will not be held liable for any injury, that could happen on the premises, and do not take any responsibility for any one's child on the premises!

NOISE AND PRIVACY:

Please note as different guests stay in various rooms you need to respect your fellow travelers and their privacy. please don't make unnecessary loud noise after 10pm as other guests might already have gone to bed and you might be disturbing our Neighbors. Please respect other traveler's possessions, space and privacy, and do not take what is not yours. Theft & harassment will not be tolerated. You will face criminal prosecution for theft and be arrested! For harassment to another guest you will find your self banned.

PARKING AREA:

We have parking inside for all private rooms. Please note if your park behind someone in the inside parking area please leave your keys at reception in the key box, so that if someone wants to get out we can move your car for you and don't need to disturb you. We will move your car carefully and safely so don't worry. Guests booked into the dorm will be asked to park in specific allocated parking areas either outside on the gravel parking provided or at the back side of the property. No street parking allowed, or on neighbors lawns or parking areas please! All cars parked inside or outside are strictly done so at your own risk. Surf Kite Sleep will not be held liable for any damage or theft if it should occur.

KITE SURFING, WINDSURFING & SURFING GEAR

The Storage and cleaning area provided for our Guests for there gear is Safe & Secure. We provide you with a fully laid out gear storage facility and cleaning area for your gear so that you can be assured your things have a spot where they are safe. Please help us keep this area organized and place your gear at the allocated areas where they belong so we can keep it tidy and make it usable for everyone who has gear, When you grab your gear for a session, make sure it is yours and not someone else gear, mistakes happen, but try to avoid it. Theft of gear will not be tolerated and the storage area is under 24 hour recorded CCTV surveillance. We urge that you put all your gear in the storage at night so that we can lock the storage and keep your gear safe inside. Please do not leave your gear lying around on the property, it looks messy and things can go missing. Only people allowed in the storage area, are the guests who have gear inside the storage, if you don't have gear in the storage you are not allowed to enter the storage at any time what so ever.

There is a unisex shower installed in the storage and cleaning area, with warm & cold water, please rinse of your wet suite and your self in the shower if your sandy so we don't carry all of that into the rooms and bathrooms, we also have two large dipping buckets for you to clean your gear with and a hanging area where they can dry. Please make use of this instead of washing your gear in the bathrooms, this makes a mess and brings a lot of sand into the house which is difficult to keep clean.

ANIMALS:

We have one cat on the premises. if you are allergic to cats please make sure to have your medication handy if necessary. The cat is not allowed in the rooms or on any beds so please don't tempt him to sleep in the rooms. Please help us by keeping the doors of the bedrooms closed to avoid him from taking a nap on your bed. No other pets are allowed on the property! The Cat is very friendly!. Once you meet meet him you'll love him! Always be nice to him, any means of animal cruelty towards him, will not be tolerated!

ACCESSIBILITY:

Please note that access to the property is only allowed to guests booked into The Surf Kite Sleep. If you have some visitors coming please make arrangements with Management. Please note the property is not adequate for wheelchairs as there are stairs. Also, the pool is kept uncovered at all times, entering pool area at own risk. Right of Admission Reserved to The Surf Kite Sleep. - We take no responsibility for any Injury or loss, or theft if it should happen. Entering the property you do so at your own Risk. No under 10's will be permitted to stay at Surf Kite Sleep Backpacker's.

COMMUNAL BATHROOMS:

Please take note that some of the Rooms have shared bathrooms and the dorms also have shared bathrooms, please take care to make sure its clean for the next guest to use and also keep in mind the time you spend in there might affect other guests that are waiting to use the same bathroom. Please notify Management if the bathroom is a mess and needs to be cleaned.

KEEPING HOUSE TIDY:

Please use communal areas and house with care and please don't spill or mess on the linen, couches, carpets, furniture !!! if you did, please notify cleaning staff or management to replace bedding or wash items before it sets in. Surf Kite Sleep is a Luxury Backpackers which gives its guest the best quality and service we can possibly give. We only ask that guests treat our place with the up most respect as we treat you. there will be a fine for any damage to property including bedding. When using the areas such as bathrooms, kitchen, patio and other communal areas,please leave it tidy...for other guests to also enjoy.

THE KITCHEN

A self-catering kitchen fully equipped for your convenience. Please after using the kitchen tidy it up and put all used spices and foods back in fridges and cabinets, take dirty dishes to the allocated washing bay. Which will then be sorted by one of the staff members for washing? Any foods still in pot's, plates, bowels, and ex. please dispose of in dustbin before putting dirty dishes at washing bay. Thanks!

POOL TABLE:

Please note that playing Pool after 10pm and before 10am is not permitted during these hours guests might still be sleeping. Please do not put drinks or any other items on the pool table or side of pool table as this might be damaging, fall over and stain the table.

LAUNDRY SERVICE:

Due to the amount of daily washing of bedding and Towels and crucial water restrictions Cape Town has in place all laundry services to guests have been suspended in house, Laundry service is now outsourced to a laundry mat and charged accordingly. Please do not use our washing machines and tumble dryer at your own accord. Also please do not wash your laundry in the basins, showers & baths as that is restricted and not allowed. Please inquire with Management about laundry service pickups from the laundry mat.


HOW TO TREAT OUR TOWELS & BEDDING:

Surf Kite Sleep provides towels and bedding for all guests. We ask that you please do not remove towels or bedding from the rooms or the premises. Please also note that the towels are to be used to dry one self and not there for removing such things as make up or any substances, making stains on the towels is unnecessary and causes damage to them. A replacement fee will be charged in the case of stained towels or if towels are missing including bedding. We are sorry that we have to implement these rules but unfortunately we have no choice. We appreciate your cooperation! If any spills occur please notify staff or management, we would gladly replace bedding and Towel before stains set in. PLEASE KEEP IN MIND TO NOT GO TO BED WHILE YOU HAVE SUN BLOCK ON AS THIS STAINS THE BEDDING TO YELLOW AND SOMETIMES REACTS TO THE CLEANING CHEMICALS AND TURNS PINK. ITS VERY DIFFICULT TO REMOVE.

SUNBATHING: Be safe from the African Sun!

We recommend that you use proper sunbathing lotion during the summer time ,30+ to 50 + especially when your on the beach. The Sun is very harsh in South Africa. They don't call it the African Sun for nothing! You can get sun burned very easily, very badly, especially if your skin is not use to our climate and you don't take the right precaution. Be careful and use proper grade sunblock to protect yourself. Feel free to tan on our sun loungers outside in the garden area when you want, as you want, how you want, "be comfy its like home" if you want beach or pool towels ask at reception. Remember if you have tanning lotion on after tanning or been on the beach please wash off before getting into bed, it stains the linen.
see more
Click to display the map
Surf Kite Sleep is 1.5km from the centre of Blouberg , the nearest airport 22km (Cape Town International Airport).
*Distances are shown as the crow flies and not necessarily the actual travelling